Happy Wednesday, everyone!
I found this fun link up on
Faison's blog
and wanted to join in! I'm a couple days late linking up, but better late than never!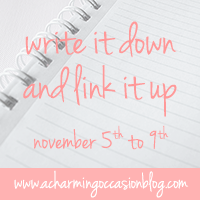 I love handwriting! Whether I'm taking notes, writing a list or composing a letter, I like to take my time and make my writing neat and legible! Messy handwriting just makes me anxious.
It's so interesting to see how different people write -- uppercase v. lowercase letters, different forms of 'a', small/large letters, cursive or non, etc. It's one of those things I find myself identifying people by -- it's so unique!
Be sure to
link up
to show off your style!
My handwriting, today:
It's not perfect, but that's what it is!
I'm trying to improve my handwriting before I become a teacher. Being in kindergarten is helping with that since we practice handwriting & the proper ways to write our letters and numbers!
Today, I am thankful for the opportunity to go to one of the greatest universities in the country. Each day I feel blessed that I was able to go to college following my graduation from high school and I am looking forward to May when I will receive my degree!
I'm thankful for all of the professors, faculty and staff members, teaching assistants, bus drivers, volunteers, and the entire student body for making Virginia Tech the special place that it is today.
Hope y'all have a wonderful day!