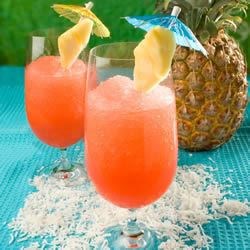 Ingredients:
1/2 fl oz rum
1/2 fl oz coconut-flavored rum
1/2 fl oz grenadine
1 fl oz orange juice
i fl oz pineapple juice
1 cup crushed ice
Combine ingredients in blender - blend until slushy consistency.
via
I obviously have summer on the mind these days and this drink would be PERFECT on the beach!
Yum, yum, yum.
Let me know what your favorite cocktail drink is!