Happy Sunday!
Tomorrow I'll update y'all on my weekend - a lot of fun! - but today I am going to link up for Sunday Social again! I thought these music questions were fun!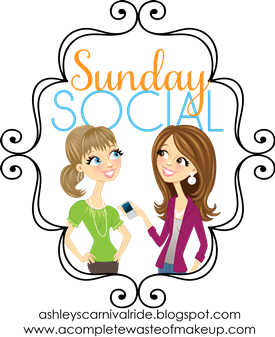 1. What is your all-time favorite song?
This is SO tough! I have so many favorite songs for different reasons, i.e. meaning, the tune, memory that goes with it, etc. One of my favorites is Crash Into Me by Dave Matthews Band.
2. Who is your favorite singer/band?
Right now my favorites are Miranda Lambert, Jason Aldean and Mumford & Sons.
(I love allll sorts of music...favorites are country & alternative!)
3. What is your theme song/song that best describes your life?
Again, I can think of so many, but right now my theme song is Here For a Good Time by George Strait!
4. What songs put you in a good mood?
Any country music, any 90's music!
5. What is your favorite roadtrip music?
Any country music, Shania Twain's #1 hits, whatever the current "pop" songs are that I can jam/sing along to and Baby Got Back.
6. What song are you embarrassed to admit you love?
I would have saved Baby Got Back for this question, but let's be honest...I am not embarrassed that I know every word to that. However, I'm embarrassed to admit that every time Give Your Heart a Break by Demi Lovato comes on Pandora, I jam outttttttt. Don't judge.
Lastly, a Sunday Verse.
I love this one.
1 Peter 3:3-4
Off to the lake today!