Switching things up this Sunday to share a bit more about myself with Sunday Social!
Thanks to Ashley & Neely for hosting this linkup every week.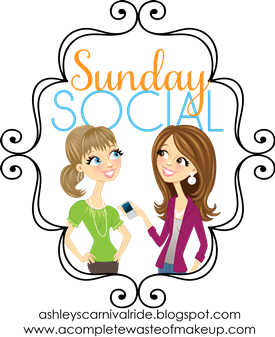 1. 5 songs you'll listen to the rest of your life
1. Spice Up Your Life - Spice Girls
2. Wagon Wheel - Old Crow Medicine Show
3. Baby Got Back - Sir Mix-A-Lot
4. Crash Into Me - Dave Matthews Band
5. Bless The Broken Road - Rascal Flatts
2. 5 things on your bucket list
1. Travel to another country
2. Run a full marathon
3. Visit something/somewhere significant in every U.S. state
4. Have my picture taken with a celebrity
5. Take a ballpark tour
3. 5 celebs you'd like to hang out with for the day
1. Miranda Lambert
2. Reese Witherspoon
3. Jimmy Fallon
4. Paula Deen
5. Sandra Bullock
4. 5 things you always carry in your purse
1. Wallet
2. Planner
3. Pens
4. Hand Sanitizer
5. Snack bar
5. 5 books on your reading list
1. The Best of Me - Nicholas Sparks
2. Divergent - Veronica Roth
3. Firefly Lane - Kristin Hannah
4. First Year Teacher: Wit and Wisdom from Teachers Who've Been There - Randy Howe
5. The Light Between Oceans - M.L. Steadman
6. Last 5 photos on your phone
Lazy!
Birthday cookie with pb icing!
Yummmmmmmm!
How cute are there vanilla bean cupcakes!?
Received my Erin Condren notepads in the mail!
Happy Sunday!