Happy Wednesday!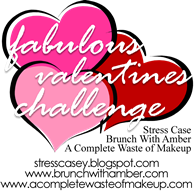 Day 3 of the Fabulous Valentine's Challenge is to share a Valentine's Day Outfit!
This
Lilly Pulitzer Ellie Top in Azalea Pink
would be the absolute cutest Valentine's Day shirt! You could wear it throughout the day or out on a date at night. I love the ruffles on it and the 3/4 length sleeves!
I paired it with heart earrings and a heart filled charm bracelet - it's Valentine's Day after all! I think the more pink and the more hearts the better.
Lastly, a neutral pair of flats and a clutch - and you're ready to go!
What will you be wearing on Valentine's Day?
Although I may not have this exact outfit on, I will have on pink!
Since I don't want to miss out on one of my favorite link ups, here is a couple things I'm loving on this Wednesday!
I'm loving that it's my best friend since third grade's birthday today! This girl is one of the most amazing friends I have. She was seriously the first friend I made after moving here and we have stayed friends ever since! There are a million things I could say about her but then you'd be on my post for about an hour ;)
Happy 21st Birthday
Jessi
!! I love ya!
High School Graduation Practice
I'm loving that we officially made Spring Break plans! Steven is playing a week-long baseball tournament in California & we'll be flying out there to watch three of the games! I'm so excited! We'll fly into San Francisco and stay in Berkeley and San Jose. After flying back we'll head to Norfolk to see my older brother before he leaves on another deployment.
Anyone ever been? Suggestions of where to go?
Thank you Steph for the suggestions you gave! :)
I'm loving these pins:
I'm loving that today is a great day! Mom finally got a doctor appointment to get her ankle evaluated and hopefully in a boot! We are headed there today, plus a stop at the library & Target :)
This will NEVER happen...
I'm loving that today starts the February photo challenge! I'm going to use this for my Project 365 this month. Find me on Twitter and/or Instagram if you'd like to see :) I'll also (eventually) post them on my Project 365 page on here.
What are you loving?
Have a fabulous start to February!
xoxo,