First of all, what did you think of the Superbowl? I was pretty happy that the Giants won. They seemed to deserve it...?
For the record, when I'm with my Dad I'm a Steelers fan, when I'm with Steven I'm an Eagles fan and when I'm with my Mom I'm a Redskins fan :)
I aim to please everyone!
Today is the start of the second week of the Fabulous Valentine's Challenge with
Neely
,
Amber
and
Casey
!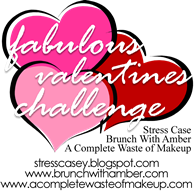 Today's topic is: Love to be Creative! (Recipes, Crafts, Gifts, etc)
Of course I'm headed to Pinterest to help with me today's topic.
Here are my top 3ish favorites!
I think this is adorable! It seems time consuming, but worth it. I love the big ribbon!
Valentine Chocolate Covered Pretzels
Chocolate covered pretzels are one of my favorite things. So yummy! These are so easy to make and so cute to look at! You could easily use these for different holidays just by changing the colors of the sprinkles :)
Remember back in elementary school when Valentine's Day was even more awesome than it is today? You had class parties & got to go to the store and pick out valentines to hand out to your classmates?
Well, that is one of the perks of working with kids! For 3 hours next Tuesday I'll get to share in the excitement with the kids at GLE. I'm pumped.
Here are some adorable valentines I'm thinking would be great to bring to them!
Super Valentine
Tootsie Roll Pop Flower
Goldfish Pack
M&M Baggies with Shovel
I'll let you know which I decide to make later on!
Planing on making any Valentine's Day treats or crafts?
I'd love to see what you create or you can join in on the link up to share!
Happy Monday!
xoxo,