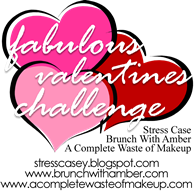 Today's topic is: Love Blogging! And why!
I really do love blogging. I started this little 'ol blog back in May almost completely as a joke. My roommates and I were bumming around and we decided to all start one.
No way did I ever think I would still be blogging today!
I think I've kept it up because it has become so routine...plus I like to meet new people & find new inspirations!
I get so anxious when I think I'm going to miss a daily post...I get so excited to get new comments...I get even more excited to gain new followers...I very much look forward to reading my favorite blogs and catch up with how everyone is doing...I am always eager to find new fashion ideas, recipes or crafts...
I am thankful to have something that is 100% me. No one else is writing this for me. Yes, I get ideas (from fun link ups!) but what you see here is me! I am glad to have something that I will be able to look back on in a couple of years when I think to myself, "Hmmm...what was I like as a junior in college?"
Lastly, I am thankful for all of my blog friends! I talk about blog friends to my IRL friends (and family) as if you were all my neighbors. Some people think I'm crazy, but I think they're just jealous.
Y'all seriously know how to make my day with your sweet comments and with your own posts.
This blog would be nothing without you.
Now, speaking of great ideas and inspiration, it's time for Top 5 Tuesday with my blog friend,
Rachel
!
1. Norts - the most comfortable things ever! My favorite pair is my Hokie colored pair :)
2. Leggings - For the past couple of months I have lived in these. I wear them to bed, to school, under my jeans, under dresses, etc. So comfy.
3. Brown boots - I love these boots! I got mine at Rack Room and they look just like the real ones. In fact, when I got them, I didn't know they were look-a-likes. I just thought the were cute! They're really worn in now.
4. Pearl studs - Classic, go-to earrings for the day. The only problem is I can't find anything to compliment them to put in my second hole.
5. Rainbow flip-flops - During the summer, I live in these! They're so comfy and I can even wear them to work. I had to get a new pair last year because the ones before were SO worn in. I like that they form to your feet, but these were getting thin!


Hope everyone is having a great day! I'm anxious to get some things done after work so I can go enjoy my weekend with Steven! Not leaving until Thursday but still so excited.
I'm staying at home this week to help out my Mom and loving it. I've been able to catch up on shows via the DVR which I miss! Plus I get extra puppy time with Sadie. Always a plus.

Happy Tuesday!
xoxo,