First of all, thank you all for the sweet comments yesterday. Mom is feeling well enough to go to work & will hopefully be in a boot later this week :)
Over the next two weeks I'm going to be linking up with
Neely
,
Amber
and
Casey
for their Fabulous Valentine's Challenge!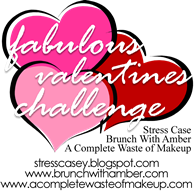 Today's topic is: Loved This Date - Best Date Ever
I have had a ton of "best dates" but that's because it doesn't take much for me to think a date is the best one! In fact I can't really think of any bad ones.
Going bowling, putt-putting or making a homemade meal together can make me smile from ear to ear!
Since Steven and I don't get many date nights throughout the year, I value each one we do get. Our favorite date night is definitely dinner & a movie.
However, the date that stands out in my mind is my 18th birthday. Steven told me we were going somewhere in Roanoke, but wouldn't tell me where. He picked me up & we started driving.
Sidenote: this is huge for him. I'm usually the one having to decide what we do! I was excited, but scared. We had been together for almost a year by this point.
We got to Roanoke and walked into the mall. Not many clues came to mind seeing as the mall has a lot of stores.
We go up the escalator & I know exactly what store is at the top.
Build-a-Bear Workshop.
I don't care if this makes me sound like a baby, but I was so happy! I got to make a penguin (one of my favorite animals) and he still sleeps on my bed to this day.
I was not only thrilled to be going to Build-a-Bear (the last time I was there was quite a while ago) but it meant so much that Steven planned the whole night himself. He planned a special surprise, just for me, and that means more than any gift.
Not my picture - but this is the penguin I made! Isn't he adorable?
Afterwards we went to Abuelo's for a birthday dinner! The same place we both went for our 21st's this past year. YUM!
Coming in at a close second would be our day-trip to Disney! Even though his parents were there, so it wasn't really completely a date.
I also know my best date might change in twelve days when we go to the game I got tickets for for Steven's birthday! Can't wait!
Also - did anyone else watch the SAG Awards? I was so happy that Modern Family won best cast ensemble for a comedy series. That was a tough category, but I think they deserve it. That show is hilarious!
I was also so glad to see The Help win so many categories. That was a great movie with even greater actors. They deserve it!
Hope y'all have a great Monday!
xoxo,