So, I haven't had so much time to blog in the past 48 hours or so, so I figured I would give up a little bit of my Wordless Wednesday (that I'm trying to make a habit) to catch up!
I traveled to Martinsville on Tuesday a little bit earlier than normal to have lunch with SB & shop around. M'ville doesn't have much in the way of shopping but I was able to entertain myself just fine for the couple of hours I had to spare :) I walked into Belk & found some cute tumblers. I got one for Mom and one for myself!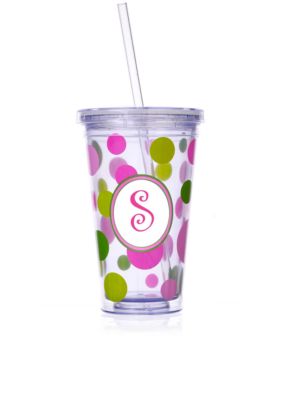 This is Mom's -- but it had a 'J' of course
This is mine (16 oz tervis tumbler)
I love it! Had to get the lid to go with mine too, especially with taking it out in the car/to work/etc. Filled it with some tea today and took it to work. Kind of wish I had bought the larger size, but this will work for now :) They had cute designs that were tempting, like flip flops, beach chair and even a Virginia Tech one!
After Belk, I went in to Bath & Body works because they were having a 75% off sale on certain items...can't really beat that!
After that, I went and bought a water, a snack & a Gatorade for SB and then headed to the field. I was the only "fan" for SB this time, but I got to sit in the very front row next to the dugout. That was fine, except for the mascot harassment I was getting. Unfortunately, in only the 3rd inning it started to thunder & lightning, and here became my view:
Boo.
Not the best view but at least it kept me away from the lightning - which I'm terrified of. After each strike they wait 30 minutes. After about an hour and a half they resumed play (rain/thunder had stopped but still some lightning in the distance) but I had to leave early to head home :(
I had an
amazing
day though, so it didn't matter. I feel incredibly blessed to have that boy in my life! 3 years and counting...
Tomorrow we're taking the kiddo's to the Safari Park which is up near Natural Bridge in VA. They are all very excited...I just hope for a) no rain b) no tears c) no bitten fingers and d) no traffic!
I will hopefully be able to take lots of pictures :) I'm in charge of the rising 1st grade group. It'll be a good day :)
Hope everyone is keeping cool since, after all, it's now officially summer!
Wear that SPF. xoxo
pintrest fun: