First, here is today's portion of the 10 Day You Challenge.
Seven Wants
(1) I want
...to freeze time and get 24 hours of sleep STRAIGHT! This week has been exhausting between work and starting class. I'm pretty sure (after I do my homework) I will spend this weekend asleep. Sorry 'bout it.
(2) I want
...this pink room (via Pinterest)
Sidenote: After just typing that, I realize I've been spelling "Pinterest" wrong this whole time...I AM EMBARRASSED. Please don't unfollow me. Hehe :)
(3) I want
...curly hair. Like Taylor Swift curly hair. They say, you always want what you can't have! It's true!
(4) I want
...to make these cupcakes.
Snickerdoodle cupcakes with cinnamon buttercream icing! YUM! Now to find the recipe...
(5) I want
...the Vera Bradley laptop backpack. I just love it! Plus one of our 3rd graders has it in Plum Petals and every time I see it I get jealous. Isn't that funny? Sort of backwards.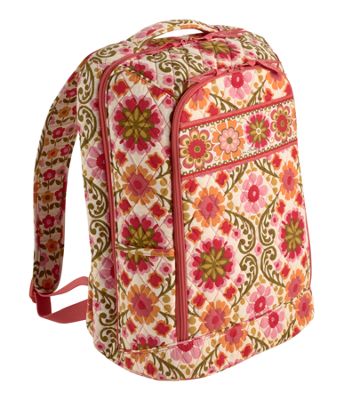 VB Laptop Backpack in Folkloric
(6) I want
...an extension of summer. I just didn't get enough time!
Va Beach, in July 2011
(7) I want
...to go to Hawaii. Had to end with an ultimate want :)
Sigh. My week has been pretty crazy, like I said, with classes and such. But so far, so good! I'll do a post about my classes this weekend. Other than that (and the earthquake...what?!) not much has been happening. We got some rain today - maybe the start of the Irene rain - but hopefully it holds up tomorrow. I hope everyone on the coast is prepared for Irene! I think big brother is going to have to take the ship offshore and little brother might be going to Richmond just for precautions. Fingers crossed.
I've noticed a lot of people doing apartment posts, so I'm going to do one too! Probably this weekend once I have some down time. I'll also need to dust up first!
Tonight after class I went to SB's where his Dad made fish tacos, crab cakes and clams. Yum! I'm usually not a fish eater (I usually get shrimp when we go out) but these were delicious.
Tomorrow is going to be a great day, I can't wait.
Hope y'all have a great start to the weekend!
xoxo,