I fell off the challenge train (that sounds bad) when I got to my anniversary post/WILW. I need to finish it though! I'll go crazy if not.
I'm at
Six Places
. I think I'm going to do six places that hold significance to myself/my life!
(1) McLean, VA
This is where my Momma and her siblings grew up and where my grandparents lived for many, many years! As in decades. I spent all major holidays in McLean for many years and even lived there for a bit and attended a pre-school. I can't tell you how many times I've had to stick my head out the window and help Momma merge onto the beltway. Or how many times I've browsed through Tysons. As crazy as NOVA is, I always looked forward to going to McLean and, since my grandparents have passed away, I have missed being there. Now, my Uncle and Aunt live there, as well as my cousin. Also many friends from the area!
(2) Charleston, SC
This is where my big brother was first stationed when he got out of boot camp. He did his schooling here. We had the privilege to visit him a couple of times and lemme tell ya, if you haven't been there, you need to go!! It's one of the most beautiful places I've ever been to. The architecture is gorgeous, the food is delicious, there is plenty to do, lots of shopping, tons of culture...I could go on. It's unlike the other coastal cities I've been to (VA Beach, Wilmington, Hilton Head, etc.) It's not so beach centered. Love it. Wouldn't mind sticking out a couple years there :)
(3) Norfolk/Virginia Beach, VA
This is where I was born and where my family lived until I was about 8 years old (and then we moved to Blacksburg). Like McLean, I have many fond memories of this area including our two houses we lived in, birthday parties, our church, our school (Tallwood), our family friends, pets, adventures and more! Currently my brothers live in Norfolk, so I fortunately still get to visit the area :)
(4) Angels of Assisi Animal Shelter, Roanoke, VA
This is where we adopted Sadie from :) We spent months looking at dogs online and saying "okay, one day we'll go look at one..." I think Momma still wasn't fully convinced we needed a dog, but the moment I saw "Jolene" (her shelter name) on the AoA website we were IN LOVE.
Her website picture
We went to the shelter on a Saturday and she was in the isolation room because she had kennel cough. The lady said for us to look at other dogs, just in case. We looked at the other ones (including Sadie's mom - wahh) and saw some potentials. Then, we asked to see her. The lady gave her to Momma to hold so she could keep the other dog (her sister) back in the cage and you could see it in her face...she was the one :) We took her home right then and there!
(5) Allentown, PA
This is where SB's family is from and where I have had the opportunity to visit several times. His family is so warm welcoming and always treats me as if I were family too. Whenever I hear of kids at Tech coming from Allentown I smile :) When I used to think of PA, I would think of Philly but since I've seen the "amish country" I suppose it's called, I have a whole new outlook! While I don't think I could handle their snow (ehhh) the part of town his family lives in is beautiful! Makes me feel like I'm out in the country/VA :)
(6) Blacksburg High School (the one on Patrick Henry)
For those of you bloggers who don't know (which is 99% of you I'm sure), during my freshman year of college, our high school gym collapsed. I want to say it was on Valentine's Day, actually. Right around there. It was on a Saturday morning when no one was inside, but just happened to occur the morning after a basketball game when the gym was COMPLETELY full of families, fans, etc. What could have been a tragedy turned out to be a huge inconvenience for all. Anyway, to make a long story short, our middle school (brand new when I entered 6th grade) turned into the high school and our middle school students now go to school in an old building in the neighboring Christiansburg. TO MY POINT: I will be quite sad to see my high school torn down. The building has been deemed unsafe, unusable, etc. They will tear it down in the near future. I'm one of those people, though, that loved high school. I loved all the different classes and teachers and having 45 minute classes and seeing all my friends all day. I spent many afternoons watching baseball games and running around the track. I started a wonderful relationship that I am so blessed to be in. I found new friendships that have lasted throughout college. Eventually all I will have are my memories, and that's okay. But I'll have to go snap a picture or two just in case I get old one day ;)
Whew! There ya go!
I feel exhausted. Still, on my mind, is that it is the first day of September. Which means it will be FALL soon! Yikes? I don't know, I absolutely love summer but I keep seeing cute fall clothes and I want some crisp weather to wear it in.
Here are my Top 5 Fall Must Haves :)
1. Scarves
I love scarves not only because they look cute, but they can take a "plain" outfit of jeans and a white tee and bring it together and make it cute! I have several different scarves, most of them are patterned but I have a few solid colors. I can't wait to wear them!
2. Vera Bradley Stadium Blanket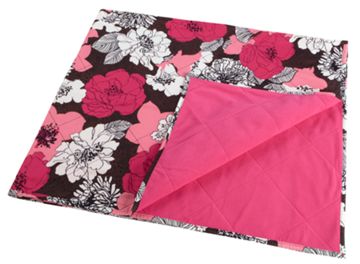 I ran out and picked this baby up before the store even had them out! I had to ask where they were and she brought me one from the back. These are fleece-lined and super cute - bursting with color. I got the blanket in Mocha Rouge (shown) because it has some brown in it - Lehigh's color :) Since I assume I'll be using it at those freeeeezing cold PA spring games!
3. The North Face Denali Jacket
You can't go wrong with a North Face fleece. The Denali jacket is warm, comfortable and looks cute with almost any outfit! It has zippered pockets which is perfect to keep your phone/wallet from falling out, or to keep your hands warm too :)
4. Cardigans
I think it's safe to say you can't ever have too many cardigans. Am I right? I absolutely love them and plan to 'revamp' my cardigan collection this Fall. I have a couple that I don't like the material, so I plan to take them to Plato's Closet and then get some new ones! I love that they can be dressed down or up. You can wear them with shorts, jeans, a skirt, a dress...anything!! Kind of obsessed.
5. O.P.I. Malaga Wine
I am partial to pinks and corals for my nails, but when it turns to Fall, I sometimes like to switch it up. A dark red, brown or neutral color are always my first thoughts! Malaga Wine isn't too bright, but it still makes me feel girly. I don't own this one (saw it on the O.P.I. site - which is so fun to play around on!) but I might need to go find it!
That's all! For real!
Happy September :)
xoxo,